BEIJING – With promising phase II data in hand – and newly designated FDA orphan drug status – Suzhou, China-based Tennor Therapeutics Suzhou Co. Ltd. is gearing up to move into pivotal testing with TNP-2092 to treat prosthetic joint infections. The company said it could be the first drug approved for that indication.

TNP-2092 is a multitargeting drug conjugate designed to exert antibacterial activity by inhibiting three essential targets in bacterial biofilms, namely RNA polymerase, DNA gyrase and topoisomerase IV. Tennor CEO Zhenkun Ma told BioWorld that TNP-2092 is the most advanced and the most potent drug known for biofilm infections associated with medical devices.
"It is a new molecular entity able to interfere with these three essential drug targets that are particularly important for bacteria living in biofilms," he explained. "Therefore, TNP-2092 can not only overcome antibiotic resistance and minimize resistance development, but also eradicate bacteria living in biofilms."
Before the orphan drug designation was granted, TNP-2092 already had received qualified infectious disease product and fast track designations from the FDA.
Tennor said TNP-2092 has demonstrated strong bactericidal activity, low frequency for development of resistance and a good safety profile. The drug candidate has shown better efficacy than standard of care in a variety of animal models of bacterial biofilm infections.
In November, the drugmaker reported top-line results from the phase II multicenter, randomized, double-blind, vancomycin-controlled trial conducted in the U.S. The study enrolled 120 patients with acute bacterial skin and skin structure infections and randomized them into TNP-2092 and vancomycin treatment groups in a 2-to-1 ratio.
The early clinical response rates at the early assessment point, which was within 48 hours to 72 hours after initiation of treatment, were 76.3% for TNP-2092 and 67.5% for vancomycin in the intent-to-treat populations. The post-treatment success rates in the clinical evaluable population were 96.4% for TNP-2092 and 92.6% for vancomycin. Meanwhile, methicillin-resistant Staphylococcus aureus (MRSA) accounted for about 50% of all pathogens isolated.
Tennor said that in a subpopulation analysis, TNP-2092 appeared to be equally efficacious against infections caused by MRSA and other pathogens, and the incidence of treatment-emergent adverse effects were similar between the two treatment groups.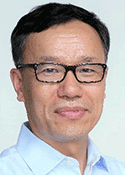 Zhenkun Ma, CEO of Tennor
"Besides this phase II trial that was just completed, we are conducting a TNP-2092 joint tissue distribution study in the U.S. in total hip arthroplasty and total knee arthroplasty participants," Ma told BioWorld. "The ongoing joint distribution study is a critical step towards a multinational, multicenter pivotal trial for prosthetic joint infections. The pivotal trial will be conducted in both the U.S. and China."
Pending positive phase III data, Ma said the firm plans to submit NDAs in both the U.S. and China.
If TNP-2092 is developed successfully, the drug could be a solution to superbugs and medical device-associated biofilm infections, the latter of which Tennor believes has become an unmet need as medical devices such as prosthetic joints, central venous catheters and artificial heart valves are being inserted more frequently.
The drug could save patients from surgical interventions plus prolonged antibiotic treatments that lead to high treatment costs.
TNP-2092 also has the potential to treat diseases associated with gastrointestinal (GI) tract infections, according to Ma.
"We have developed a GI locally acting oral formulation of TNP-2092 for the treatment of hyperammonemia and hepatic encephalopathy associated with liver cirrhosis," he told BioWorld. "We have completed phase I studies in China, and a phase II study for the oral formulation is about to start soon."
In the phase I studies, the TNP-2092 oral capsule demonstrated safety and tolerability. It possessed better antibacterial activity and lower potential for developing resistance compared with rifaximin, which developed resistance rapidly during clinical trials.
If the TNP-2092 oral capsule is developed successfully for that indication, it will help Tennor garner profits from the $5 billion market for gastrointestinal tract-specific antibiotics.
Currently, Ma said his company is keen to seek partners for the regional or global development of TNP-2092.
Founded in 2013, Tennor focuses on developing differentiated products to treat rare diseases associated with bacterial infections and has a multitargeting drug discovery platform. In 2016, it closed a $25 million series B financing round to advance the TNP-2092 program.
Besides TNP-2092, Tennor has in its pipeline TNP-2198, a multitargeting new molecular entity with a synergistic mode of action against anaerobic bacteria that is said to be highly potent against pathogens associated with bacterial vaginosis. The drug received IND approval in China in 2018 and is now in phase I studies.
"We will take advantage of our multitargeting drug conjugate technology platform and develop truly innovative therapies, rather than 'me too' or 'me better' products, to address major unmet needs in infectious disease areas," Ma said.
He added that Tennor targets indications that lack effective therapy currently, such as prosthetic joint infections, and uses superiority rather than noninferiority trial designs to demonstrate the advantages of its products over current standard-of-care products.
"By doing this, we hope to address the market challenges that antibacterial companies are facing right now," he said.
详情请见此链接:https://www.bioworld.com/articles/432589-tennors-prosthetic-joint-infections-therapy-tnp-2092-set-to-start-phase-iii-soon?v=preview